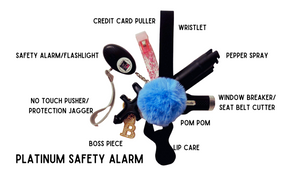 Quality, stylish and sounds the alarm loud for all. Email for any questions operationsteam@bossgirlplusbro.com Available in His /hers
 We aim to provide you with the best quality protection out. For us its not about the trend (JUST SELLING SAFETY KEYCHAINS) its about attaching items that will actually benefit our supporters if they EVER were in a SERIOUS situation. This is why you will see things available here that you haven't anywhere else. YOU DESERVE THE BEST SO BOSS UP AND PUT SAFETY 1ST.
Look, the world we live in today just isn't what it used to be.

You can no longer send kids out to play in the neighborhood unattended.
You can no longer walk alone at night without keeping your head on a swivel.
Honestly you can barely take a walk alone during the daytime. Having some type protection is a MUST. Also its approved for travel in airports. 
Highly recommend for children to prevent strangers from harming or even abducting them.
Get one for you and/or your child and love ones to carry everywhere. The safety alarm pierces 120db sound, that activated simply by pilling a pin. It scares attackers and attracts volumes of attention. How loud is 120db? It's like a military jet taking off. LOUD
ADD YOUR KEYS for convenience. It hangs/clips on purses, belts, backpacks, and even can wear it on the wrist.  This world can be ugly and it's best to keep a step ahead. Self defense is a MUST for ALL. 
CONTAINS: x7
SAFETLY PULL ALARM Useful in Any dangerous situation. Feel followed or watched Please pull the string and it'll draw attention to you. In hopes to scare the threat/stranger away.
RETRACTABLE LANYARD A retractable lanyard is offered for easy and fast access in case of emergencies. ( back packs, purses, belt buckle etc.) 
POM POM BALL/B-LOGO this gives 2023 style and is branded representing our business
A WRISTBAND nice soft easy grab your keys and go
A HAND SANITIZER Always great to keep germs away. Includes a holder as well.
LIP GLOSS Options Dream Big, Jupiter or a lip balm
PEPPER SPRAY It is amazing! A must have- don't let the threat/ attacker get super close. Use your Pepper Spray. It shoots very far-Police grade. Can give you time to get to safety.
2-n-1 WINDOW BREAKER/ SELT BELT CUTTER if you're ever trapped inside a car or under water inside a car, use your window breaker to break window. Also can cut a seat belt if your stuck. 
LIP CARE- Gloss or Balm
HANDHELD JABBER/CONTACTLESS TOUCHER Amazing, if you have to protect yourself in a physical fight. Grip in between your fingers and defend yourself. Great Quality!
CHECK OUT THE LIST OF ADD ONS(FEES WILL APPLY) & BUILD YOUR OWN SAFETY KEYCHAIN ***ADD ONs are an additional price.
(ADD ON) A WHISTLE another great tool to use to be heard 
 (ADD ON) CARD PULLER pink color ONLY