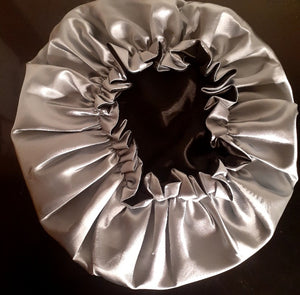 This bonnet has a elegant look to us. Its satin and reversible so very beautiful to have. Our bonnets are comfortable and very stretchy. If you consider yourself to have a big head our bonnets are for you and smaller heads. It will adjust to your head size with no problem. 
YES! It comes as a set with our branded keepsake carry bag and a satin hair scrunchie. Wear your scrunchie on your hair or on wrist for style. 
**We recommend this size for all kids 3+. If your child is young but doesn't have much hair yet, I would say to order the baby sized bonnet. And please consider our herbal infused natural products for your child's hair growth journey. The bonnets are very stretchy as well. Our hair products were formulated for children ages 2+.